For the ultimate race experience in Zwolle, you have to be at Racesquare Zwolle. We are located in a unique location within the stadium of PEC Zwolle. Will you challenge your friends and family? Will you show off your best driving skills? Will you toast to victory with a view of the famous soccer field? Racesquare Zwolle is the place to be! Will you be the first to cross the finish line? Show everyone who the real winner is! Or… get your revenge on the track or at the bar!
Are you ready?
Groups up to 200 people
60 Sims
FOOD COURT
Boardroom
KIES JOUW ULTIEME RACE EXPERIENCE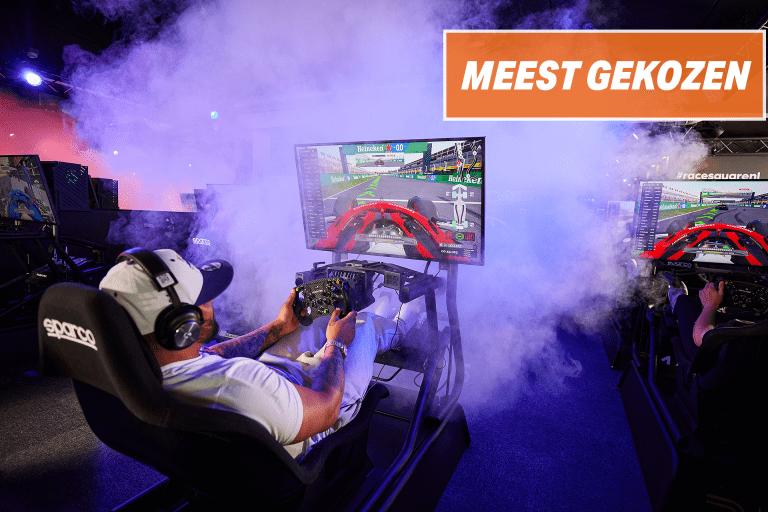 GOLD DEAL
MOST POPULAR | € 70,-
DRIVE A FULL GP WEEKEND IN 1 HOUR
FREE PRACTICE, QUALIFICATION AND RACE
3 RACE LEVELS: SOFT, MEDIUM AND HARD
ALL F1 CIRCUITS
INCLUDED:SNACK&DRINK, DINER AND 1 HOUR OF FREE DRINKS
Duration: 2,5 HOURS
Price: € 55,-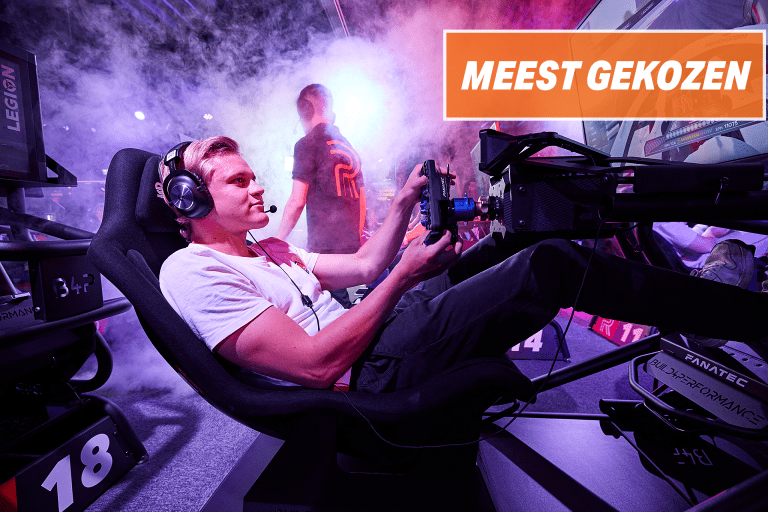 RACE EXPERIENCE
1 HOUR | € 25,-
DRIVE A FULL GP WEEKEND IN 1 HOUR
FREE PRACTICE, QUALIFICATION AND RACE
3 RACE LVELES: SOFT, MEDIUM AND HARD
ALL F1 TRACKS
Duration: 1 HOUR
Price: € 25,-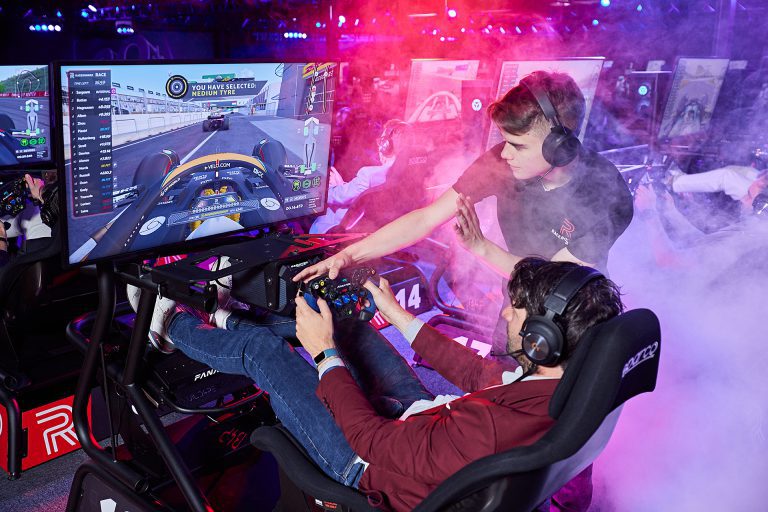 30 MINUTE RACE
30 MINUTES | € 14,-
DRIVE A SHORT GP WEEKEND IN 30 MINUTES
FREE PRACTICE, QUALIFICATION AND RACE
1 RACE LEVEL: SOFT (BEGINNERS)
3 TRACKS: NETHERLANDS, AUSTRIA AND ITALY
Duration: 30 MINUTES
Price: € 14.-
Formula 1 race experience
Racesquare Zwolle is equipped with high-end F1 simulators. The simulators consist of the latest technology and are specifically designed to provide the best F1 race experience. We simulate an entire Formula 1 race weekend! It starts with a training to get you comfortable. Then you'll try to set the fastest time during qualifying to fight for the best results during the race. Will you claim P1?
Are you coming alone or with a group? Everyone is welcome! You can reserve a seat for yourself, for you and friends or an entire race square: your own full grid. It's all possible at Racesquare Zwolle: the best F1 simulator experience!
At your own level
At Racesquare, we take everyone into account. For example, you can choose the type of race depending on your group. We have the soft race for beginners, the medium race for drivers who are familiar with simulation racing and the hard race for the real experts. Besides difficulty, the races also differ in experience. For example, during a medium or hard race there is a chance of rain, while during a soft race the sun often shines. Do you prefer not to switch gears yourself? We've got you covered!
Racesquare Zwolle
The highway won't compare once you've visited our F1 simulators. Racesquare Zwolle is more than just a racing venue. It's a place where dreams come to life! Are you ready for the ultimate race experience of Zwolle?
Visitor information
Opening hours until September 3rd:
Monday from 1:00 PM – 11:00 PM
Tuesday – Sunday from 10:00 AM – 11:00 PM
Opening hours after September 4th:
Tuesday – Friday from 12:30 PM – 11:00 PM
Saturday and Sunday from 10:00 AM – 11:00 PM
Address:
Stadionplein 3
9025 CP Zwolle
Phone: 0851304336
Email: zwolle@racesquare.nl