You will find the ultimate race experience at Racesquare Rotterdam! With its unique location opposite the famous Kuip, Racesquare Rotterdam together with the Hollywood Event Center is THE race outing of Rotterdam. Take a seat in the motion simulators, feel the G-force at every corner and fight to win until the finish line. Celebrate at the bar, discover all other leisure activities and get back onto the track for revenge! Racesquare Rotterdam has it all!
Will you shout 'bye bye' at your friends as you pass them like the famous Peter Houtman once did?
THE BATTLE IS ON!

4 Motion sims
60 Static sims
FOOD COURT
Groups up to 200 People
KIES JOUW ULTIEME RACE EXPERIENCE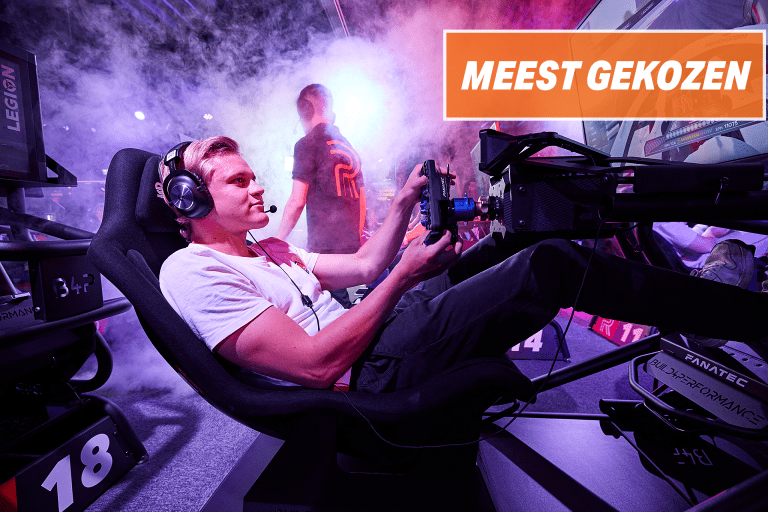 RACE EXPERIENCE
1 HOUR | € 25,-
DRIVE A FULL GP WEEKEND IN 1 HOUR
FREE PRACTICE, QUALIFICATION AND RACE
3 RACE LEVELS: SOFT, MEDIUM AND HARD
ALL F1 TRACKS
Duration: 1 HOUR
Price: € 25,-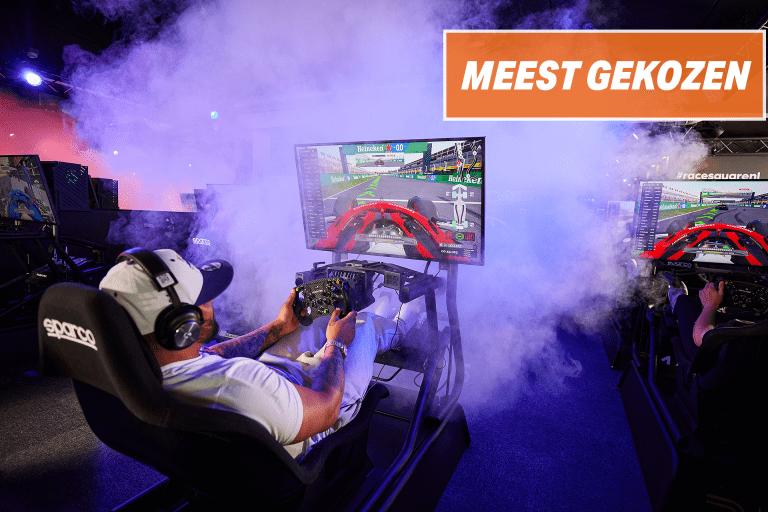 SILVER DEAL
MOST POPULAR | € 60,-
WELCOME DRINK
DRIVERS BRIEFING
RACE (1 HOUR)
PODIUM CEREMONY
DRINK WITH SNACKS
INCLUDES BEVERAGE DEAL (BEER, WINE AND SOFT DRINKS)
Duration: 2 HOURS
Price: € 60,-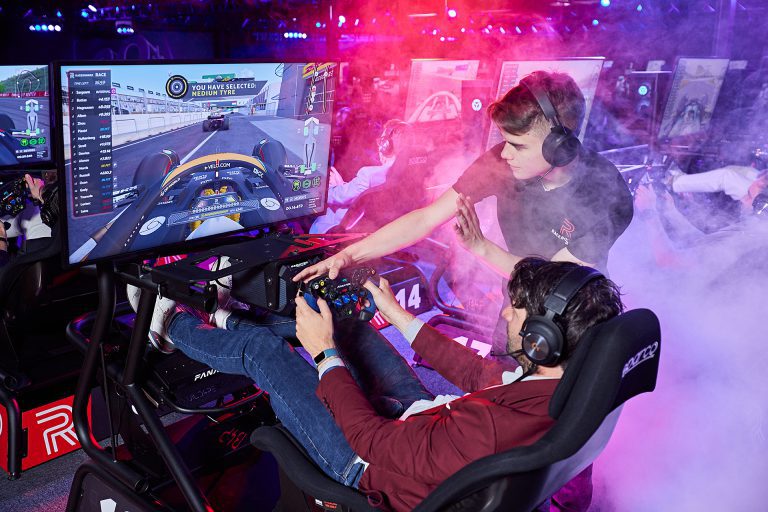 30 MINUTE RACE
30 MINUTES | € 14,-
Drive a GP-weekend in 30 minutes
Free Practice, Qualification and Race
1 racelevel: Soft (beginners)
3 tracks: The Netherlands, Austria and Italy
Duration: 30 MINUTES
Price: € 14,-
Race Experience Rotterdam
Take part in a Formula 1 race at Racesquare Rotterdam. Take a seat in our high-end simulators, which are specifically designed to give the full F1 experience.
Are you coming alone, together or as a group? At Racesquare Rotterdam you can reserve one seat, several or an entire grid to secure your very own race square. For the most realistic F1 experience, step into our motion simulators: these move along with your racing moves! Whether you're racing through a corner, braking too hard or hitting a curb, the motion simulator ensures you feel every move!
At your own level
At Racesquare, we take everyone into account. For example, you can choose the type of race depending on your group. We have the soft race for beginners, the medium race for drivers who are familiar with simulation racing and the hard race for the real experts. Besides difficulty, the races also differ in experience. For example, during a medium or hard race there is a chance of rain, while during a soft race the sun often shines. Do you prefer not to switch gears yourself? We've got you covered!
Formula 1 Race Rotterdam
The connection between this city and Racesquare might be even better than the connection between Lee Towers and Feyenoord. You'll start slowly, driving on Brienenoord or Laan op Zuid. But once you step inside, the real race begins! Lights on. Lights out. And away you go! With the best simulators available you'll want nothing more than to push until you get pole position. Want to take revenge? This is possible on the track or at the bar! Losing is not an option.
Visitor Information
Opening Hours:
Monday-Thursday from 12:00 – 23:00
Friday-Saturday from 11:00 – 00:00
Sunday from 11:00 – 23:00
(During holidays, opening hours may vary. For any inquiries, please contact us using the email address or phone number below)
Address:
Cor Kieboomplein 513
3077 MK Rotterdam
Phone: 0851304337
Email: rotterdam@racesquare.nl